Temperature Reading Cameras
As part of our complete security solutions we offer Temperature Reading Cameras to meet COVID-19 guidelines and to work to keep you and your organization as safe as possible. Our Temperature Reading Cameras can measure skin-surface temperatures within one second and will sound an audible alarm if a raised temperature is detected, allowing your personnel to react quickly, putting you in control.

In addition, an audible alert will also sound if no mask is detected; and because our Temperature Reading Cameras can be integrated with your access control system, it can deny entry to this visitor until a mask is detected correctly on their face.
To help meet all guidelines and allow your organization to keep proper records, a QR code can be scanned by visitors which will ask them to enter their personal information and fill out a health status form. This again, puts you and your company in the control seat, gaining and recording information of visitor's exposure history to COVID-19.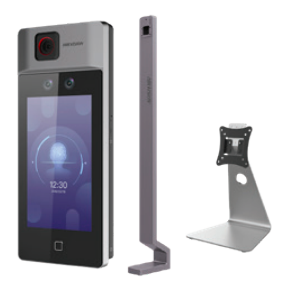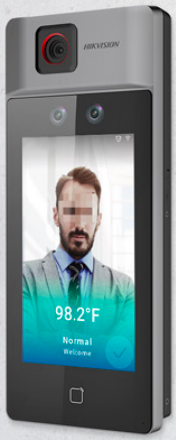 Our  Temperature Reading Terminal  Solution offers a 2 MP, wide-angle, dual lens that has a 7-inch LCD touch screen. It can recognize up to 50,000 faces and can store up to 100,000 records. Being able to easily be integrated with your VMS and access control software can be provide a complete security solution that will help meet guidelines which keeping you, your employees, and visitors as safe as possible.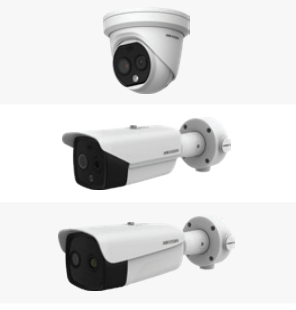 In addition to our Temperature Screening Terminal, we also offer three different ranges of cameras for temperature screening as well.
Our Short-range Turret Camera, provides an effective range for 2.6 to 4.9 feet. Our Mid-range Bullet Camera has an effective range of 4.9 to 9.8 feet. Both of these cameras can be mounted on a tripod for a portable solution or fixed onto a wall or ceiling for a long-term solution. Both of these cameras can measure skin-surface temperatures of up to 30 faces at one time, providing you with a faster, more accurate screening. These solutions also come with face mask detection and audible alert messages.
Our Long-range Bullet Camera has an effective range from 8.2 up to 23 feet. This camera provides a longer and wider range with a higher thermographic resolution. This model does not have built-in speakers for audible alerts, but comes equipped with face and mask detection.
Want some more information on our Temperature Reading Cameras? Fill out our quick Contact Form!